FLOOR SCRUBBERS / SCRUBBER DRIERS
For shiny floors With Kärcher scrubber driers, floors are hygienically clean and spotless. Sparkling performance guaranteed. Our all-rounders and specialists complete all kinds of home cleaning tasks quickly and economically.
COMPACT
Compact floor scrubbers are ideal for daily scrubbing of areas up to 1,400 m² per hour. Award winning and innovative design provide you with the best in daytime cleaning.
SCRUBBER DRIER BR 35/12 C Bp Pack UL
Agile, lightweight, quiet: The BR 35/12 C scrubber drier with its fast rechargeable, high-performance lithium-ion battery, rotating brush head, KART & roller technology and eco!efficiency mode.
Manoeuvrable, user-friendly and easy-to-maintain, the BR 35/12 C scrubber drier is a highly professional and efficient tool for cleaning small areas and cluttered surfaces. The machine is fitted with a rotatable roller brush head with KART technology (Kärcher Advanced Response Technology), making it perfect for tight corners. Can also clean in reverse if necessary (due to lack of space etc). The new lithium-ion battery has a prolonged running time, making it 3 times more durable than normal lead batteries. It is completely maintenance-free and quick to recharge. The machine's lightweight design helps you to negotiate steps and facilitates transportation. The eco!efficiency mode reduces energy consumption, increases the running time and lowers the volume by around 40%.
Brush head rotatable by +/- 200° with KART technology, allowing the machine to be steered. For easy negotiation of curves
Extremely manoeuvrable and effective – ideal for areas with a lot of furniture. The brush is always transverse to the direction of travel. The squeegee reliably absorbs the water in every corner. If necessary, cleaning and vacuuming can also be done in reverse.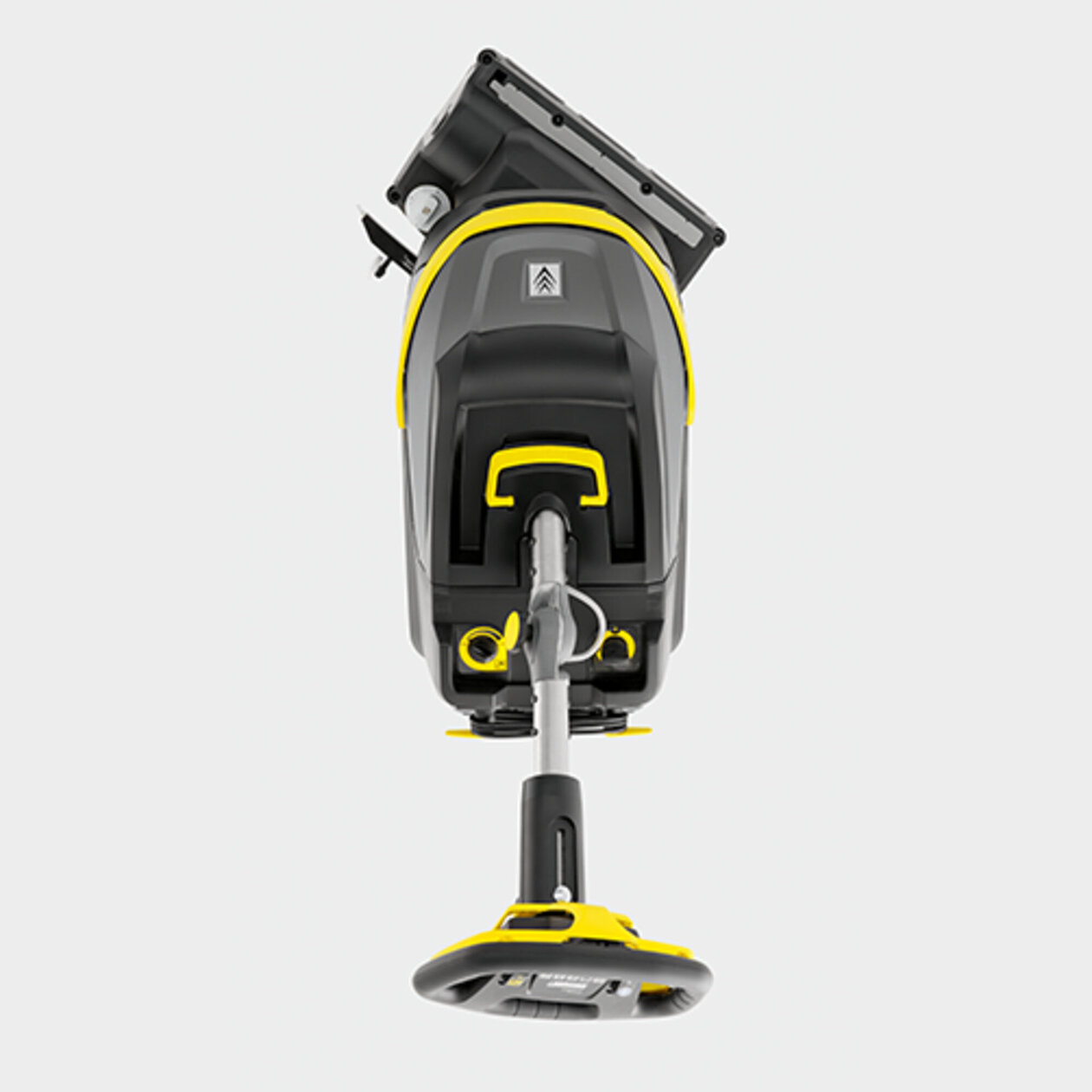 Includes high-performance lithium-ion battery
Completely maintenance-free despite a service life that is three times longer than conventional batteries. Interim or partial charging is also possible where necessary. Quick charging (full in three hours, half full in one hour).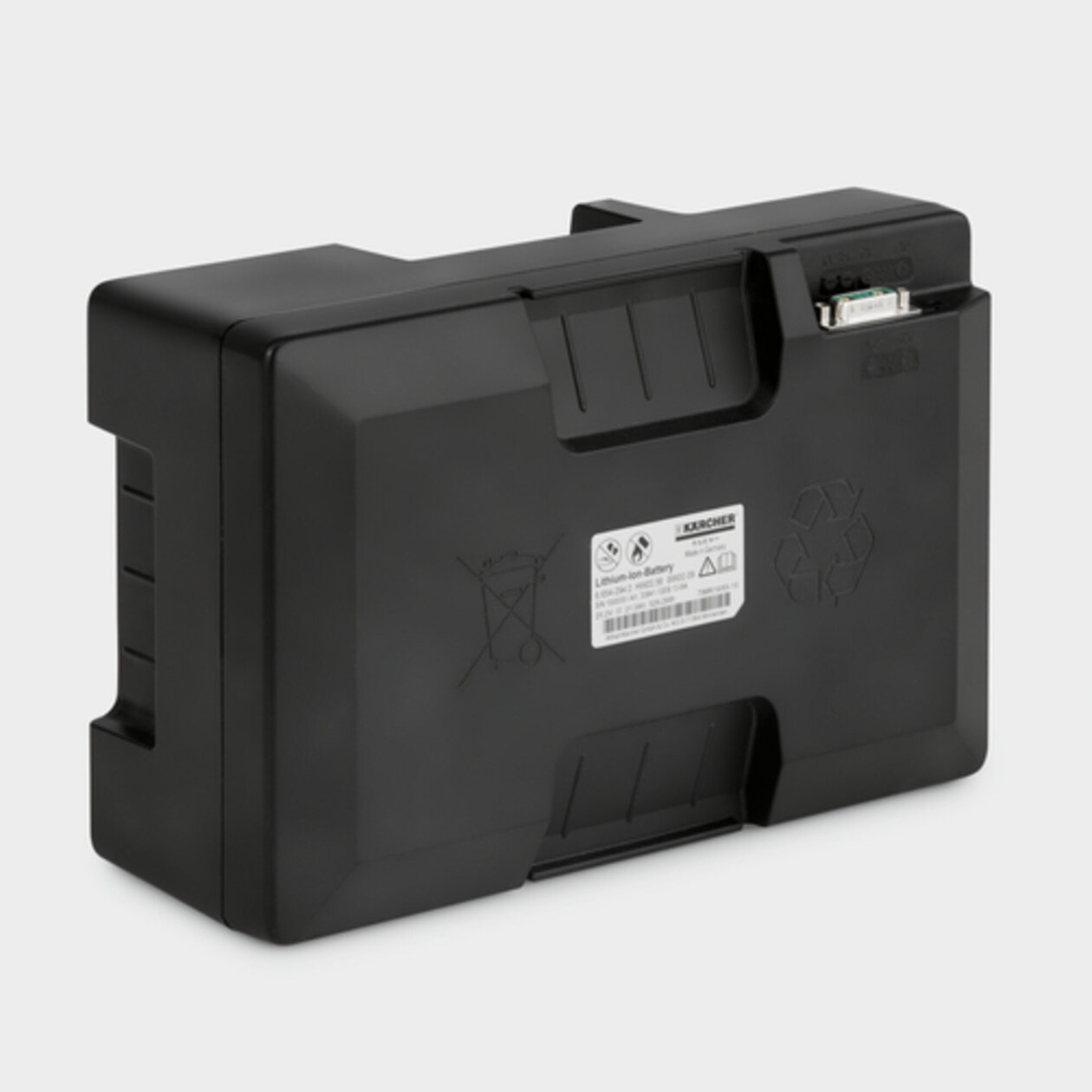 Energy-saving eco!efficiency mode
Saves resources and extends run time by up to 50 %. 40 % reduction in noise level. Reduced CO? emissions.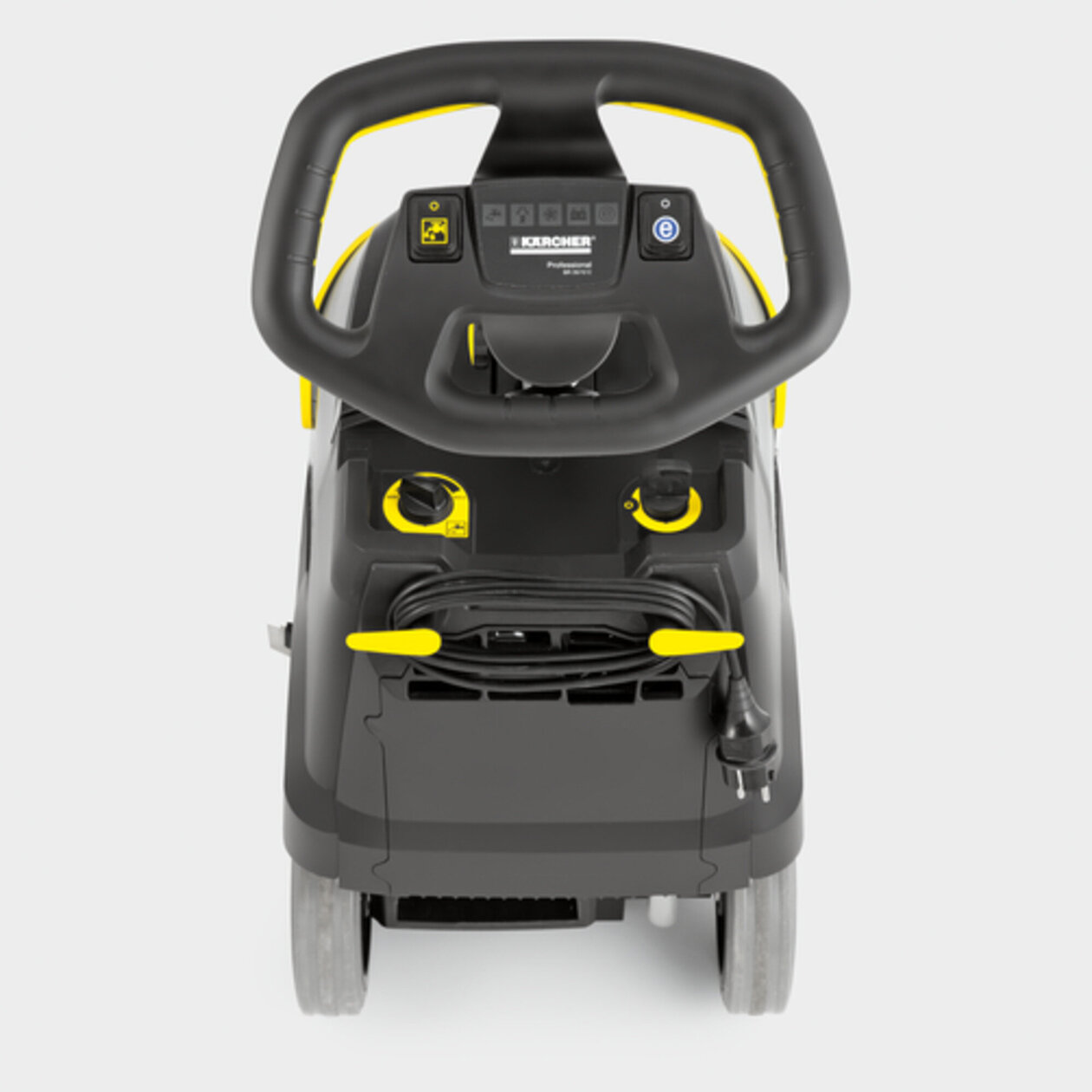 Compact device
Driving away from the wall is possible at a 90° angle.
No protrusions from the device; easy handling.
Very low machine weight
35 % lighter than comparable devices.
Can easily be carried over steps, thresholds or stairs.
Simplified transport in vehicles.
Handlebar can be folded down
Compact storage.
Can also be transported in small vehicles.
Height-adjustable handlebar
Ergonomically adjustable for different operator sizes.
Includes high-performance on-board charger
The charger is always there; charging is always possible.
Can be fully recharged in three hours or semi-charged in one hour. Interim charges are possible at any time.
Charger automatically switches itself off. No energy consumption in standby operation.
Roller technology
High contact pressure for removing stubborn dirt.
Very good even on rough floor coverings or for cleaning crevices.
Uniform cleaning result.
Includes sweeping function
Efficiently sweep, scrub and vacuum in a single procedure.
Vacuums small stones, splinter of wood and other small parts.
For optimal operation of the suction bar.
Equipment
Roller brush
2-tank system
Variable contact pressure
Battery and built-in charger included
Battery type,

Li-Ion

Transport wheels
Squeegee, straight